T H E G E N N A R G E N T U
N A T U R A L P A R K
...mountain, man, and the sea...
Fauna
Environments so overwhelmingly natural cannot but host a rich and varied fauna. Its main representative is the mufflon which inhabits the mountains in large numbers. Wild boar and foxes are also very common. The woods are the dwelling of wildcats, martens and dormice, whereas the clearings belong to partridges and hares. The mountains are an inviting stop-over for many migratory birds such as wood-pigeons which are numerous when there is an abundance of acorns. Various species of birds of prey are also present in all the territory. Golden eagles nest in the peregrine hawks. The buzzard and the kestrel hunt in the open spaces while the woods are the preferred setting of the sparrow-hawks and the goshawks. The griffon volture, now rare, was once quite common when the mountains were populated with large herds on whose carcasses they fed. Along the coast two species, which are quite rare elsewhere, have found sanctuary; the Corsican seagull, the only seagull unique to the Mediterranean, and the eleonora falcon which has, precisely in the Gulf of Orosei, one of its most important nesting areas. Finally the monk seal. Of the mythical "bue marino" only two or three specimens remain, which perhaps are no longer able to reproduce. However the mere prospect of their presence excites emotion and accompanies the navigator who eagerly scrutinises the sea in the hope of an improbable meeting.

A couple of mufflons surprised at dawn in a scree of Monte Corrasi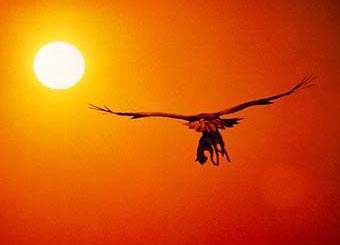 A fortunate sunset for a golden eagle which has just captured a prey