T H E G E N N A R G E N T U
N A T U R A L P A R K
...mountain, man, and the sea...
Sea
In Europe there is a unique, long cliff extending 40 kilometers and plunging into a sea of a myriad of colours, one moment intensely blue, the next emerald, and often bubbling with a lather whipped up by the gregale. Here and there dreamlike coves with the whitest of sand are revealed. This is the coast of the Gulf of Orosei. Its hinterland, of the same limestone composition as the Supramonte and sharing scenic analogies, is the natural coastal appendix.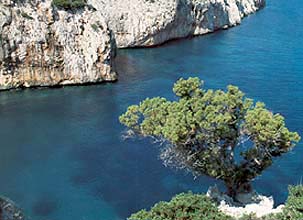 The intense blue sea of the Gulf of Orosei mirrors a solitary juniper