T H E G E N N A R G E N T U
N A T U R A L P A R K
...mountain, man, and the sea...
Park
A wall of peaks stretches out over the valleys of Oliena and Orgosolo. It seems to rise up grimly to defend some secret mystery. Behind it is the Supramonte, an ancient mountain of wild rugged beauty and enchanting solitude. The Supramonte, a vast mountain plateau of Mesozoic limestone takes in parts of the territories of Oliena, Orgosolo, Dorgali and Urzulei. The average height of the peaks is around 900 metres overlooked by Monte Corrasi (1463 m.). The landscape is quite rough, often interrupted by narrow gorges, imposing limestone bastions, wide terraces, deep dolinas and mysterious hidden ravines. There is no water on the surface as the crevices in the limestone swallow up every drop of rain, conveying it to impressive underground basins. Man has lived in the Supramonte since ancient times. In the Corbeddu Grotto (Oliena), carved dee bones have been found, carbon-dated at around 13500 years ago. This is the oldest indication of the presence of man in all Sardinia. There is also much evidence of the nuragic era, such as the remains of the Mereu and Gorroppu nuraghes and the nuragic village of Tiscali. From thence, up to the present day shepherd have lived here, compelled by this harsh and arid land to an existence of mere survival, often conducted with methods that are still primitive. The scarce economic retribution of such a lifestyle has led to the depopulation of the mountains. Nowadays the Supramonte is one of the wildest and least inhabited regions of Europe. It is therefore an immense treasure destined to gain increasing importance in the fields of tourism and the environment.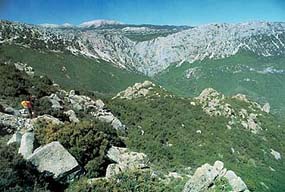 Landscape of Supramonte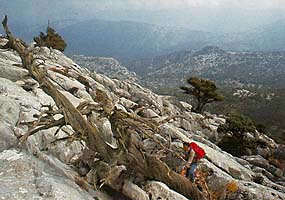 The skeleton of an old juniper enhances the scenery at "Su Lidone" (Supramonte)