T H E G E N N A R G E N T U
N A T U R A L P A R K
...mountain, man, and the sea...
The Gennargentu, a rugged crest of mountains, covers parts of the townships of Fonni, Desulo, Aritzo, Arzana and Villagrande and culminates in large semicircle of peaks, all approximately 1800 metres high. The highest summit is Punta La Marmora (1834 m.) named in honour of general Alberto La Marmora, author of many treatises on Sardinian nature. The Gennargentu is formed principally of schists which lend an undulating aspect to the landscape where numerous strata of porphyries stand out.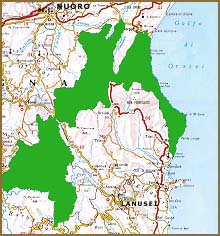 The Gennargentu Natural Park
Some, similar to rivers of stone, cascade from the peaks into valleys where they lie in total confusion. The most important ancient human settlement is the nuragic village of Ruinas, in the mountains of Arzana. It was formed of no less than 200 circular huts set around a large central nuraghe. The main activities carried out in the Gennargentu are sheep-rearing and exploitation of the forest.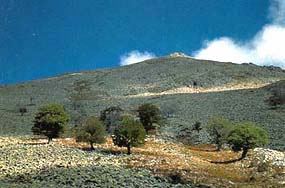 "Su Sciusciu" in the Gennargentu is characterised by an immense trail of porphyries
In the photo above: a fortunate sunset for a golden eagle which has just captured a prey