A R C H A E O L O G Y
a true open museum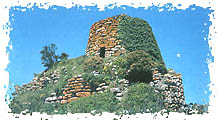 The nuraghi are by now universally known as the symbol-monuments of Sardinian Prehistory, in fact their numerous and widespread presence in all the regional territory (including the isle of Carloforte) justly designates them an austere and impressive testimony of one of the main Mediterranean prehistoric civilisations.
These great bastions and high towers of megalithic majesty were erected in Sardinia to assert a notable economic and social progress during the centuries that saw the rise and fall of the Minos palaces, before the birth and beyond the fall of the Mycenaean civilisation, up to the Iron age.
When Greek civilisation was at its very dawn, the civilisation of the great builders of the nuraghi had completed its vicissitudes, but its ethnic seed did not die there, nor were the economical importance and cultural vivacity of the island diminished. Traffic and trade with the peninsula and with the Orient were intensified. New rites and religious apports left the sign of their secular presence with monuments, certainly less spectacular than the great nuraghi but no less fascinating.
Far from being completely revealed in all its long evolution, Sardinian Prehistory is a great book of enchanting mysteries, mostly unresolved, increasing through time its pages and fields of research.
The millennia of the pre-nuragic period "expanded" with the articulation and maturing of archaeology – a science which in Sardinia can consider itself young – through its progress in new methods of research and analysis and through its increasing discoveries, often of notable scientific relevance.
The high number of archaeological sites and monuments and their concentration in the territory, decisively superior to any other Italian or European region, substantiates the fact that Sardinia is a true open museum offering its message of great civilisation and culture framed by unequalled beauty of unforgettable and absorbing fascination.
It is in the heart of the island, the territory of Nuoro, that the greatest number of monuments is concentrated. They are often well-preserved and varied in their distribution and typology and, blending into the scenery and soul of the populations, they offer a unique and incomparable cultural background, coloured by a singular folklore, at once remote and novel.

In the photo above: Orolo Nuraghe