T O U R I S T I C I T I N E R A R I E S
...mountain, man, and the sea...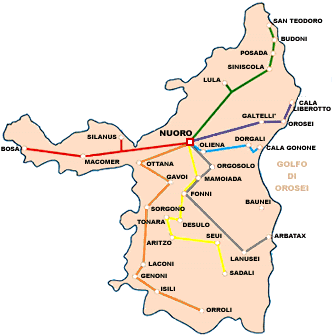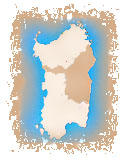 The Province of Nuoro, situated in the center of Sardinia, overlooks the Tyrrhenian Sea to the Eastward and the Sardinian Sea to the Westward towards the Balearic Islands.
Its territory, hill-mountainous, boasts a wonderful heritage with incomparable landscape beauties: beaches, mountains and forests rich of botanic and faunistic endemisms. Nuraghi, tombs, ancient churches, medieval towers testify its great history and for this reason it is very interesting with regard to archaeology and ethnography.
In the hearth of Sardinia there's the highest and main rugged crest of mountains in the island: the "Gennargentu" (Silver Door) with the peaks of "Punta la Marmora" (1834 m.) and of "Bruncu Spina" (1829 m.) a famous winter resort, is actually a tourist destination, this is the only area where snows every year despite the climate mildness of this island.
This area includes the wildest and rough region of Sardinia, the Barbagia, that Roman colonizers named Barbaria. In the inside of Barbagia can be distinguished, ranging from the North to the South, the following subregions: the Barbagia of Ollolai, the Barbagia of Belvė and the Barbagia of Seulo. However many geographical, economic and anthropic aspects, which are common to these subregions, make of Barbagia a distinct entity completely different from the others Sardinian regions. Among these aspects we can underline: the roughness of its territory, cut by deep gorges and lined by steep slopes causing difficulties to the communications; an economy based mainly on the sheepbreeding, while agriculture is a sideline; finally the survival of old traditions and regional costumes, due to the isolation in which lived and lives people.
Here the traveller will feel an increasing curiosity for discovering the facet of a different land.